6BG6 To 6L6/7027A Conversion
Requires NO Equipment Modifications
Note: Due to the high prices of US made 6L6's, these are starting to sell fast! I will be raising the price again soon to reflect that so if you are thinking about buying some, get the now before the price goes up again.
Do you use 6L6's or 7027A's? Do you like American made ones but don't like the price of $65 or more? Then you need to CHECK THIS OUT!
We have procured a VERY large supply of new old stock Philips/ECG (formerly Sylvania) 6BG6GA tubes that are PERFECT replacements for any 6L6 or 7027A. In cases where the amplifier connects the cathode to G3 (suppressor grid), you can even use these in place of EL34/6CA7 tubes. (I am currently using them in my Eico HF-89 amplifier and Bogen MA-265 amplifier). These improved 6BG6GA tubes are ABSOLUTELY IDENTICAL to the Sylvania 7027A/6L6GC because they were made with exactly the same components. They have the larger 35 watt plates found in only the 7581A/6L6GC or 7027A which means they will work in ANY 6L6 or 7027A application. The difference between the 6L6 and this 6BG6GA is the 6BG6 has the plate connection at the top of the tube, so it has a "cap". Because the plate connection is at the top, this tube can easily handle plate voltages in the 700Volt range. There are also 2 wires reversed in the tube base. Ok what is the advantage? PRICE!! While new 7027A's are $95+ each and 6L6GC's are $75 each (or more), our 6BG6GA's are only $18 each!! We are offering adapter kits to convert 6BG6's to 6L6's or 7027A's for only $10 each (they only differ in the way they are wired). You simply plug the adapter into the tube socket on your amplifier and then plug in the 6BG6. These work and sound EXACTLY like Phillips/Sylvania 6L6GC's. We have already sold quite a few of these and almost everyone who has bought them has reordered more of them. With the supply of NOS tubes disappearing at an alarming rate, you can still afford to lay in a lifetime supply of these quality tubes.
FAQ's
I've been asked this one allot. I set the Philips/ECG tube up on my General Radio Vacuum Tube Bridge. I cranked the power supplies up to run the tube at maximum ratings..(500VDC plate voltage, 75ma plate current=35W). Screen voltage was set at 450 VDC. I allowed the tube to run continuously for several hours. There were no red spots on the plate and the tube operated absolutely normally. I did this for several samples. I also set the tube up to run maximum screen dissipation (5W). No problems. I then tried several different NOS 6BG6GA's from the 60's. The all IMMEDIATELY had large red spots on the plates AND FAILED within minutes. Furthermore, I have been running these tubes in my own personal amplifiers. One is a Bogen 65W per channel amp which was designed to use 7027A's. It runs 540V on the plate. These tubes have been running for several hundred hours in this amp with absolutely no problems at all.
Can I use the older 6BG6's that I have on hand already? The answer is MAYBE. If you use them in an application that calls for earlier versions of the 6L6,(6L6, 6L6GA, 6L6GB, 6L6WGB, 5881), then they will work fine. I do not recommend the older tubes for amps that call for 6L6GC/7581A/7027A. These older 6BG6GA's have 19 watt plates and will not work for these tubes.

How do they sound? Well, I can just tell you that since the internal structure is identical to the Sylvania STR (6L6GC/7581A), they will sound exactly like them.

How much taller are they? Well the adapter and cap add about 1 5/8" to the length of a Sylvania STR/6L6GC. These are tall tubes to begin with, so please be aware that the overall length of the tube and adapter is 6 inches.

Will I get shocked by the plate cap? Not really. So long as the insulated cap is in place on the tube, you shouldn't get shocked. The plate cap supplied is insulated. IF YOU USE AN UNINSULATED PLATE CAP, THEN DON'T TOUCH THE PLATE CAP!! THERE ARE LETHAL VOLTAGES PRESENT THERE AND YOU COULD BE SERIOUSLY INJURED OR KILLED.

How hard is the adapter to make? Not hard really. You just need to be able to solder some wires. It will take you about 40 minutes to make each one.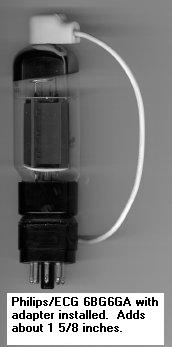 Philips/ECG 6BG6GA New Original Box JAN Milspec
$18.00 Each (unmatched)
Matched Pairs $40/pair
Matched Quad $80/quad
Adapter Kit For 6L6 or 7027A--$10 each with tube purchase
Assembled Adapters for 6L6 or 7027A--Not available. Only kits above available at this time.
Additional Note: I have only about 300 of these left. I started with over 13,000. They are nearly gone. I suggest you lay in what you consider a "lifetime" supply. Once these are gone, the only 6BG6's that will be available will be the old 19 watt version. They will work fine for 6L6, 6L6G, 6L6GA, 6L6GB and 5881 but NOT 6L6GC.